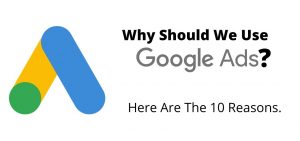 Why Should We Use Google Ads?
Online marketing and Google Ads are two sides of the same coin.
Google Ads has proven to be a successful tool for generating traffic, marketing your product, and getting instant sales.
If you are new in digital marketing, you might find it hard to trust Google Ads for your brand promotion.
Here are 10 advantages of Google Ads that will give you solid reasons to try it out.
1. Google Ads is Scalable:
This is one of the best advantages of Google Ads. If you want to convert at a profitable rate, Google Ads can help you do that quickly. You can increase your PPC budget and see an increase in your leads and profits accordingly.
2. Google Ads is measurable:
Google Ads PPC is highly measurable comparing with SEO, social media, and traditional marketing. Moreover, Google Ads is more transparent, allowing you to see what works and what doesn't at a granular level. You can quickly determine whether your campaigns generate ROI or not.
3. Google Ads is flexible:
Google Ads allows customizing your campaigns and ads according to your needs to target a particular group of the interested audience, with specific keywords, ad extensions, narrowing the audience group, and access to non-search users.
4. Google Ads is faster than SEO:
This is one of the advantages of Google Ads that makes it so popular. It takes months to see the results generated by SEO, while Google Ads show you instant results whether your campaigns are bringing clicks or not.
5. Google Ads is generally easier than SEO:
Google Ads needs much less effort to maintain than SEO. In other words, Google Ads is easier to learn as most of the sources are honest and give the new marketers the scope of learning.
6. Google Ads is taking over the SERPs:
Google Ads allows you to get ads high up on SERP to get more clicks on ads than organic results.
7. Google Ads Formats can be more engaging than Organic Results:
It's hard to deny that this is one of the advantages of Google Ads. Google Ads uses a lot of new formats like in-video ads on YouTube to create more engaging ads, leading to generate clicks and benefiting the advertisers.
8. Google Ad Traffic might convert better than Organic Traffic:
Some evidence states that paid search traffic converts better than organic traffic. This is because paid search traffic is more targeted and qualified and that queries are more commercial in nature than informative.
9. Google Ads complements your other marketing channels:
Remarketing is a powerful way to use ads to target your old customers. Google Ads help you track past visitors to your website with a cookie and follow them around the internet. Also, with cart abandonment emails, you can retarget the old customers to increase your ROI.
10. Your competitors are using Google Ads:
This one is the peer pressure one. When your competitor is using Google Ads to increase the return, why not you? They are using it to the fullest to get better results, so you should use their tactics to beat them in their field.